One of the most frequently asked questions we receive at Hobson Media is, "how do you find the clients with whom you work?" The simple answer is, there is no simple answer. In fact, one of the most unusual and unpredictable scenarios I've ever experienced unfolded just a few weeks ago, opening the door to a project that I never saw coming.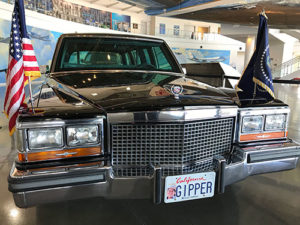 It all started with a call from an unfamiliar number. The purpose of the call was to inquire about my interest in joining a very talented team of communication strategists to help develop effective communication strategies for, of all places, the Ronald Reagan Presidential Foundation & Institute (RRPFI). It took me approximately 20 seconds to accept the invitation.
As I write these thoughts, I'm still stunned and thankful that the Lord saw fit to open this door to using the talents and creative abilities He blessed me with – to play a small role in promoting the core values of my favorite President ever.
Can you imagine a world where a United States President would win 49 of 50 states in an election? That concept is so far-fetched, I don't think even the most adventurous Hollywood scriptwriter would offer it up for consideration.
But it happened, and it wasn't all that long ago. The year was 1984 and the President was Ronald Wilson Reagan.
His two terms in office coincided with the formative years of my life, ages 12-20. He was the first President I paid attention to in any appreciable way, and to now have the privilege of helping design communication strategies on behalf of the legacy of the Great Communicator is an honor that I find almost beyond description.
President Reagan was a man of character, integrity, optimism, humor, and vision. He led this great nation through some very turbulent moments, great tragedies, and global tensions – and never wavered from his steadfast belief that, in his words:
"I know in my heart that man is good, that what is right will always eventually triumph, and there is purpose and worth to each and every life."
Today's political and cultural climate seems closed to the notions that President Reagan held dear. But it's those values and ideals that are still being promoted each day by RRPFI, both on-site at the stunning Ronald Reagan Presidential Library and Museum in Simi Valley, CA, and across the country through an array of programs and events unrivaled by any other organization.
Our team recently took a road trip to the Library and Museum and I could write for hours about the goose bump moments I had while reliving some of the incredibly important snapshots in history that were shaped by President Reagan, the stunning visuals looking from the Museum across the Valley, the reality of seeing his suit coat that was pierced by the bullets of an assassin, and — see what I mean? The place is incredible…and I haven't even mentioned the honor of touring the private quarters of President and Mrs. Reagan.
But more important to me than the tangible exhibits and mementos from this special man and his wife, are the values to which he clung.
Honor. Integrity. Decency. Leadership. Friendship. Vision. Optimism.
Notice anything about that list?
I do. Most of those ideals are in very short supply in America today. This nation stands in great need of a return to those values. No, President Reagan was not perfect. But we as a nation, as communities, as families, would do well to bring those concepts back to the forefront of the national discussion. One glance at the headlines from today's news should be all the evidence we need.
There's your answer to the question, ""how do you find the clients with whom you work?"
Sometimes, an unexpected blessing stops by in the form of a phone call.