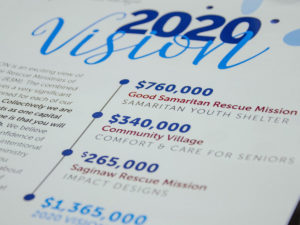 When you see our stated promise to "help tell your story," please know it's something we take quite seriously. The invitation to assist your organization in the presentation of a message with the potential to literally change the future of your company or charity, is a high honor.
We're proud of our longtime partnership with Rescue Ministries of Mid-Michigan (R3M). For 113 years, this outstanding organization has served the hurting and homeless in the Great Lakes Bay Region of Michigan. With homeless shelters in Saginaw and Bay City and a home for seniors in Saginaw, R3M is both highly respected and effective in its ministry.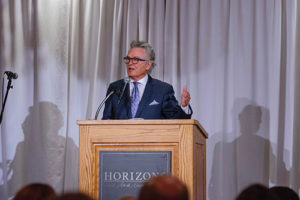 In late September of 2018, R3M held its 113th Anniversary Gala with special guest Ron Hall – author of the powerful best-selling book, "Same Kind of Different As Me." This ticketed event drew over 900 people for a very special evening which included the unveiling of the R3M "Vision 2020" campaign.
Along with the stellar team at R3M, Hobson Media was thrilled to be part of the planning, timing, programming, and production of the evening as everyone involved prayed and worked toward a pair of goals: to introduce the Vision 2020 campaign and encourage the audience to donate $100,000 or more, which was going to be doubled by a few generous friends of the mission.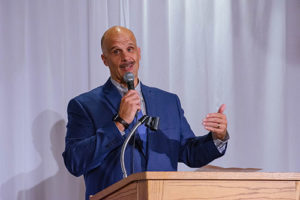 This type of celebration and fundraiser is not something that can be thrown together in a week or two. Months of planning, preparation, and prayer went into everything from seating charts to the menu to the music and the timing. Even then, numerous tweaks were injected into the rhythm of the evening as we sought to maximize the uniquely large gathering.
To help make the case that Vision 2020 was carefully planned and truly important to the ministry of R3M, we were asked to produce a video that would touch on all 3 primary "pillars" of the campaign…
Any accurate overview of the evening must include high praise for the message brought by Ron Hall. He was simply fantastic, as you'll hear in this podcast of his presentation.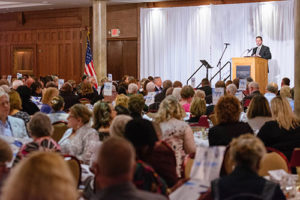 In the end, the kind, generous, compassionate people in attendance that evening responded – as of this writing – with gifts of more than $250,000, launching the Vision 2020 campaign in a most encouraging way.
At Hobson Media, we don't pretend to take anywhere close to the bulk of the credit for successful events like this gala…but we are honored to be able to play a role in guiding, programming, emceeing, and telling the stories that touch hearts and motivate donors to do something they may not have been planning to do just a couple hours earlier.
If you have a special event that needs a special touch to properly tell your special story, we would love to be part of your team.